Everplans Vs IronClad Family: Which is the better deal for your family?

Chinedu Afoama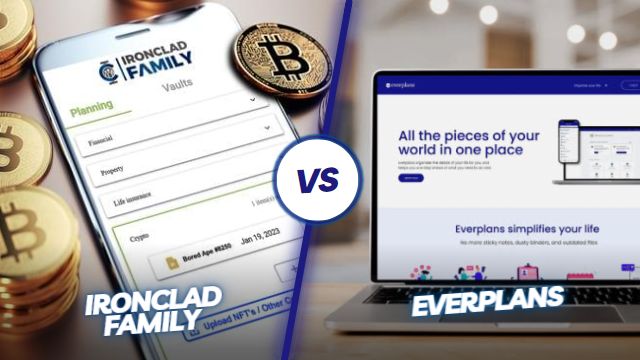 Overview
Finding the best platform to store and manage all of your family's information can be a daunting task. For example, you may need secure access to information like:
Medical directives
Insurance Policies
Deeds, Titles, and other proof of property
Important

family documents or memories

Your Trust and Wills
When considering different options It's best to consider factors such as pricing, ease of use, versatility, flexibility, security, and so on.
There are a few functional alternatives available, so it's critical to weigh the benefits and drawbacks of each platform before devoting your time and resources to moving your information to your final choice.
IronClad Family and Everplans have both developed online platforms that streamline and simplify the process of storing and managing your crucial family information.
That's why in this part of our comparison series, we'll discuss (with as little bias as possible) a step-by-step comparison of these two powerful platforms, as well as who they are most appropriate for.
IronClad Family vs Everplans
IronClad Family is a robust family protection platform. In other words, it provides a lot of features that help you protect your family and personal information. It also gives you total security regarding this information with its government-level encrypted vaults and it's one of a kind automatic delivery capability.
It brings it all home by giving you full control over your information, assets, and liabilities with functions that allow you to grant access to anyone you want, whenever you want.
Everplans helps you securely organize, store, and share essential information including legal and insurance paperwork. For friends, family, and advisors, they provide detailed instructions, safe storage, and sharing choices. It also offers you step-by-step guidance on secure storage, and sharing options for your legal advisors and loved ones.
Although the missions of the two businesses are similar and some of their product offerings overlap, there are some significant differences between them.
Everplans: Designed for basic family planning
Pricing: $99/year
Key differentiating features: End-of-life planning. Library of resources.
Just like IronClad Family, Everplans provides you with an online platform to organize and manage family information. Securing your sensitive family information with its bank-level security and two-factor authentication. A level of security, which although it is top-notch, could be Improved.
End-of-Life Planning
In addition to its basic functions, Everplans includes a section in its product features that focus on end-of-life planning which includes a unique tab for funeral preferences, obituaries, post-burial instructions, memorials, etc.
Resources
As a new user, Everplans gives you a free copy of the book In Case You Get Hit by a Bus, which offers practical guidance on structuring and preparing your life's details. It is also simple to plan in areas like legal, financial, and medical thanks to their tools and recommendations.
Customer Support
Unlike IronClad Family with their all-around chat and email support, Everplans offers limited customer support for all inquiries, with only email as an option. Additionally, Everplans only provides self-guided onboarding and organization instead of expert onboarding and done-for-you support like IronClad Family.
Storage
The 5GB of storage that Everplan offers is more than enough for storing typical documents. It is constrained, though, if you wish to store pictures and videos. To put it into perspective, 5GB is equivalent to about 2500 images, which is insufficient for long-term or shared household use.
Summary
To sum it all up, Everplans might be a suitable choice for people who don't mind having fewer features, limited customer service options, and little flexibility.
IronClad Family: All-round family protection + Asset distribution
Pricing: starts at $99/year
Key differentiating features: Asset distribution. High-level security. Library of resources. Zero-knowledge End-to-End Encryption. Free estate planning wizards for Will, Power of Attorney & Health Directive. Crypto Wallet Passphrase protection, etc.
Designed by cyber security experts, IronClad Family not only provides you with an online platform to organize and manage family information but also helps you protect your sensitive family information with its government-level encryption, two-factor authentication, and end-to-end encryption. The bottom line is, nobody gets into your account without your say-so – not even the IronClad Family team.
Ease of use
Tired of platforms that have sections within sections, making it difficult to locate your files and documents when you need them? IronClad Family platform is the opposite. The Interface is simplistic and designed with the average busy user in mind. To top it all off, you can access any of your sensitive files from anywhere in the world without needing to carry around heavy files or documents.
Resources
Upon creating a new account, IronClad Family takes you through a mild-paced onboarding sequence of emails and how-to videos, ensuring you have a seamless learning experience as you get acquainted with your family's new best friend.
Its easy-to-digest FAQ section makes it a breeze to get unstuck easily without the need to reach out to support.
End-of-Life Planning
IronClad Family, just like Everplans has included in its product features a section that focuses on end-of-life planning which includes a unique tab for wishes, funeral preferences, obituaries, post-burial instructions, memorials, etc.
Premium Customer Support
As a premium user, you are entitled to email and chat support 24/7. Regardless of whatever questions or challenges you may encounter in setting up or managing your account, IronClad Family's friendly support practically holds your hand and walks you through it.
Additionally, you have the option to book a 2-hour session with an Ironclad Family Coach via phone/text, to ensure you have secured everything your family needs and made it accessible to them.
Security
Vaults: Regardless of which premium option you decide on, you can create an unlimited amount of vaults (vaults are where you store your information, documents or photos). This makes it extremely easy and simple to designate recipients of your vaults, as well as assign family members or advisors to manage any vault you desire.
Government-level encryption: Your Ironclad family account is protected by 256-bit encryption—equivalent to the encryption used by top government institutions. You also get access to an optional (FREE) crypto wallet passphrase encryption.
Zero-knowledge encryption: With our advanced encryption technique called "End-To-End Zero-Knowledge Encryption", you can rest easy knowing that not even the IronClad Family team can ever access your account or its contents. Ironclad Family is the only service of its kind that has implemented this ultra-secure encryption standard.
The Highest independent Security Scores: IronClad Family consistently scores higher than every other civilian web site in 3rd party, independent ratings of website security. In fact, only the CIA and FBI rank higher in security than we do.
Sound like too bold a claim? Click here to find out more on how IronClad Family is built to protect you from breaches, identity theft, and other risks. We have certificates to back our claims.
Unbeatable Features and Add-ons
FREE emergency card: As a premium user, you have the option to request multiple FREE wallet-size health cards with emergency contacts, health issues, and a link to your health directive for limited access by EMS services and health providers.
Storage: You get a whopping 100GB with your IronClad Family account. You can store as many documents, pictures, videos, and information as you want without limit – with no extra charge for additional space.
Free estate planning wizards: From your dashboard, you can access a library of lawyer-approved templates for your Will, Power of Attorney, & Healthcare Directive, in line with the local guidelines of your residence.
Summary
If you prioritize comfort, accessibility, security, and full control, IronClad Family might be a good option for you. Additionally, Ironclad Family's premium expert service offers you one-on-one assistance via email or chat. Overall, IronClad Family offers practical and flexible control over your assets and crucial information.
Still having trouble making a choice? Here is a breakdown of each point:
| | | |
| --- | --- | --- |
| | IronClad Family | Everplans |
| Free Trial | 14 days | 60 days |
| Pricing | $99/year | $99/year |
| Storage space | 100GB | 5GB |
| Security | Government-level encryption | Bank-level encryption |
| | 256-bit encryption | 256-bit encryption |
| | Two-factor authentication | Two-factor authentication |
| | Zero-knowledge End-to-End Encryption | Local encryption after receiving your data unencrypted |
| Onboarding | Self-service or Expert-guided | Self-service |
| Product | Collaboration with loved ones and advisors | Limited permissions |
| Support | Email, chat | Priority: email |
| User types | Individuals and families | Individuals, families and businesses |
| Resources | Resource library for smooth onboarding | Resource library for information |
| Cancellation policy | Cancel any time within 14 days, full refund | Cancel any time |
Next Steps
Do you have any questions about IronClad Family? Perhaps you want to learn more about how our product could help you with digital protection for you and your family. Feel free to get in touch with us here. Or, you can easily start your free trial today and see if IronClad Family is a good fit for you and your family.